Ben Peterson – CELLO A graduate of Grinnell College, Mr. Peterson studied with Yehuda Hanani at the Peabody Institute. He is finishing on his doctoral dissertation at Boston University. Ben is an active soloist and chamber music performer, as well as conductor of the Amherst Regional High School orchestra, and a really fantastic cello teacher.
---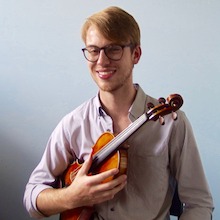 Eric Mrugala, VIOLIN & VIOLA
Chicago native Eric Mrugala discovered the violin when he was three and never lost that initial spark. A graduate of Boston Conservatory, Eric serves as Concertmaster of the UMass/Amherst Symphony Orchestra and also teaches at The Putney School. He is a very experienced teacher and a happy fellow who will help you play your best.
---
Hannah Young – VIOLIN Hannah Young studied violin and piano at the San Francisco Conservatory from an early age. From a musical household, at age 12 she played violin in the all-state California Youth Symphony. She began piano at age three. Hannah never lost the the fun of playing music; it is about play-ing. Hannah is fluent in Spanish and Chinese.
---
Lily Sexton – FIDDLE & VIOLIN Lily Sexton came up thru the Waldorf School string program from a very early age and is also classically trained in voice. Lily teaches the Suzuki books and classical technique. And fiddle, performing in her band "Mamma's Marmalade". She is really good with kids and has fun giving her students the skills they need to have fun and succeed.
---
Tom Williams – BASS, PIANO & GUITAR A talented multi-instrumentalist, Tom's music degree is in the bass, both acoustic upright and electric, from the University of Arizona. Tom is also an accomplished jazz guitarist, as well as folk, acoustic, and electric styles. And he has played and taught piano for many years. Whatever your interest, Tom will help you have the most fun with your instrument. Check out his website at tomwilliamsguitar.com
---